---
Deciding how to talk about mental health can be really hard. Where do you start? Who do you even talk to? What will they say? There are seemingly endless questions. However, starting the conversation with someone who can assist you is often the hardest – but most necessary – part of the journey to better mental health.
Below are tips you can use to start having a conversation about mental health with important people and groups in your life.
Person 1: Your Primary Care Provider
Your primary care provider should be the first stop on your journey to taking care of your mental health. They're uniquely positioned to have a holistic understanding of your medical history and health goals. Ahead of your appointment with them, prepare a list of what you want to address, as well as symptoms, questions you have and any concerns. You also may want to consider bringing someone with you, such as a family member or trusted friend, to support you. However, this is not necessary and is dependent upon your comfort level.
Once you start the conversation, be honest about how you feel. Your provider only knows what you tell them, so it's important that you're open. Your provider may have some initial thoughts, so feel free to ask questions. However, diagnosis of a condition can take some time, and treatment may take trial and error to find the right solution for you.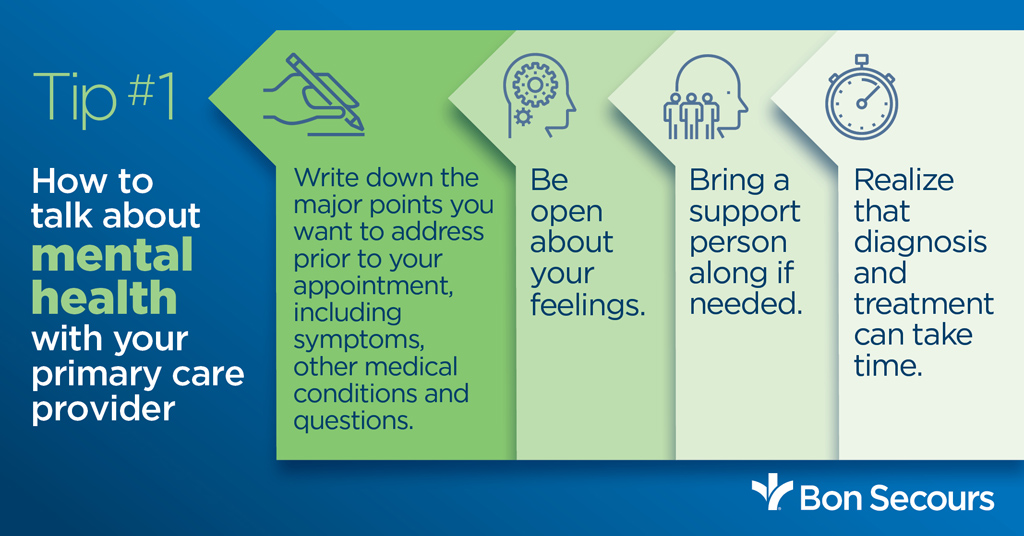 Person 2: Your Partner
Relationships are built on the backbone of trust and communication. You wouldn't hesitate to talk to your partner if your elbow hurt or you were concerned about stomach issues – your mental health is no different. Your partner is there to support you. However, starting that conversation can be difficult, because you don't know how they will react to what you are sharing with them.
Prepare for your discussion by choosing a comfortable setting – one where you and your partner are at ease. Ahead of time, decide what you want to say, as well as things you don't want to bring up. Similar to talking with your primary care provider, consider compiling a list of talking points to discuss and questions your partner may have for you, as well as the answers you would respond with.
After the initial conversation, keep the lines of communication open so you and your partner are on the same page about how you're feeling. However, sometimes when we share more difficult feelings, we may not be looking for advice but rather support. This means defining boundaries with your partner and the rest of your family so they know how to respond appropriately.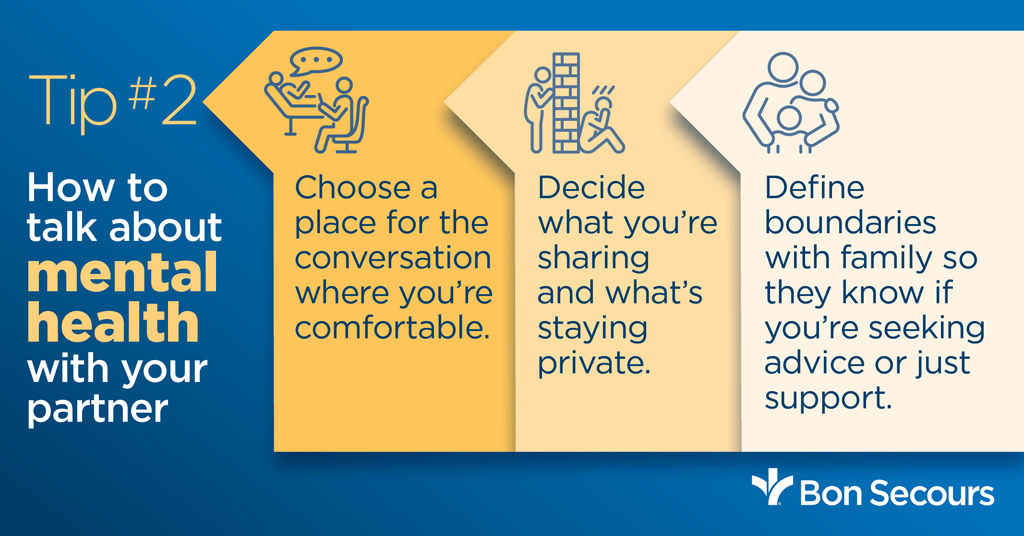 Person 3: Your Employer
Talking to your employer about your mental health can be the hardest conversation to start, given the dynamics. While there are laws that protect you, it may be difficult to open up about something personal like this in a professional setting. However, a good boss and employer will also want to support you should you decide to disclose a diagnosis of mental illness. Similarly, they will likely appreciate being clued in on your struggles and can be better prepared to help you.
Before addressing this, taking stock of the impact is a good place to start. Are your symptoms chronic or more episodic? How have you changed as an employee, and what effect is this change having on your work performance? Are there any work-related triggers? What support can your boss and employer provide to support you? Being prepared with specifics and goals will help steer the conversation to a productive place with your employer.
Ahead of the actual conversation, consider your company's culture as well as your relationship with your boss. Have other people opened up about mental health at work? Have leaders spoken about it? Are there any resources available for employees? Do your manager and leaders model good mental health behavior themselves? This may help you identify how to approach the conversation, while practicing with someone in your personal life can help you anticipate its reception. You may also consider moving this conversation to a more neutral location – let them know you have an important topic to discuss and suggest going on a walk to make it feel more informal.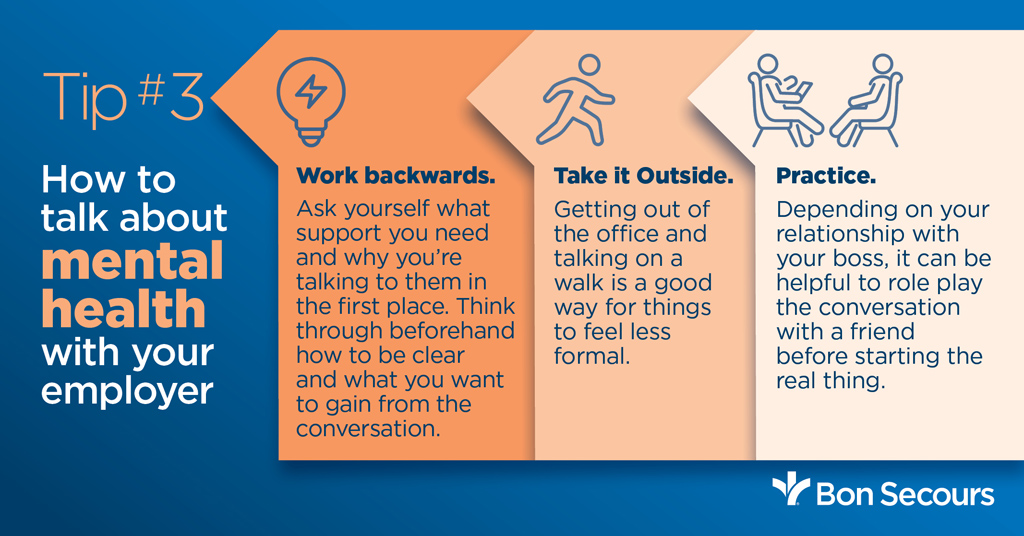 Person 4: Your Kids
If you have kids, you may struggle with how to have a conversation about mental health with them. It's a tricky topic to broach with children, and some people may be reluctant to share this type of issue in an effort to protect them. However, children are typically very observant and are often quick to notice when something is different.
When considering a conversation about your mental health with your child or children, remember that kids are resilient, but you still have to take into account an age-appropriate level of understanding. Making the topic approachable and, most importantly, comfortable is key to a productive conversation. The easiest way to start off is by using straightforward language. Make it simple, and be clear about what you're saying. Also, consider a setting that is informal – somewhere that they are ease, like in the car or on a walk.
Once you begin the conversation about your own feelings, open the conversation up to them to share how they feel. They may have thoughts about what you've just shared with them, or might even share their own feelings because they feel more comfortable to do so. Open the door for them to ask questions without judgment.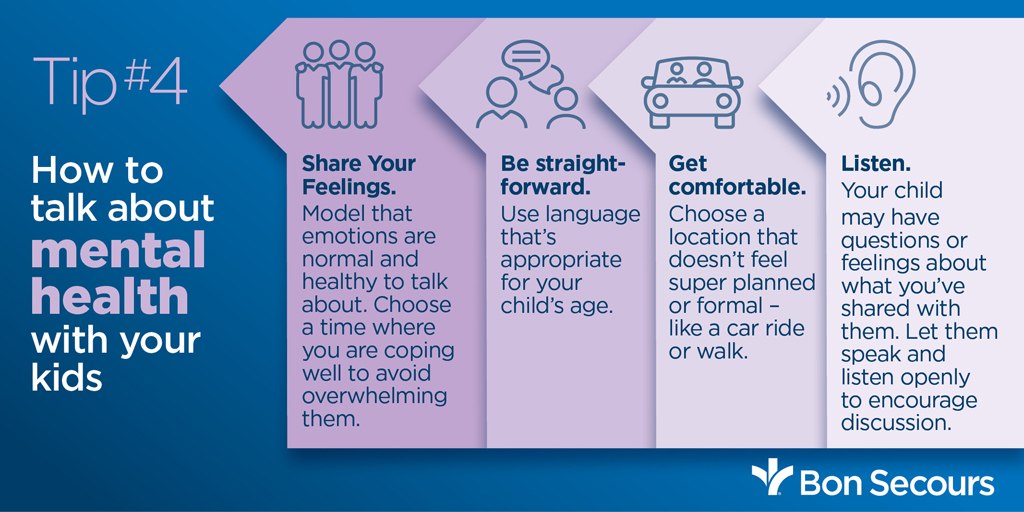 Person 5: A Mental Health Professional
If it's time to seek professional help regarding your mental health, making sure you're prepared is the most beneficial step to take. Similar to talking to your primary care provider, prepare what you want to talk about ahead of your first appointment with them and be sure to include your feelings, physical symptoms, concerns and questions. During your discussion, be open and honest – a mental health professional should never cast judgment on what you tell them in relation to your condition, so being totally honest is critical to making progress.
Throughout the process of working with a mental health professional, ask questions. Make sure the conversation is a dialogue, not a monologue. Like any interpersonal relationship, you have to trust them and asking questions can help you determine whether they are the right fit for you. Additionally, like with other general physical illnesses, asking questions ensures you are aware of your progress.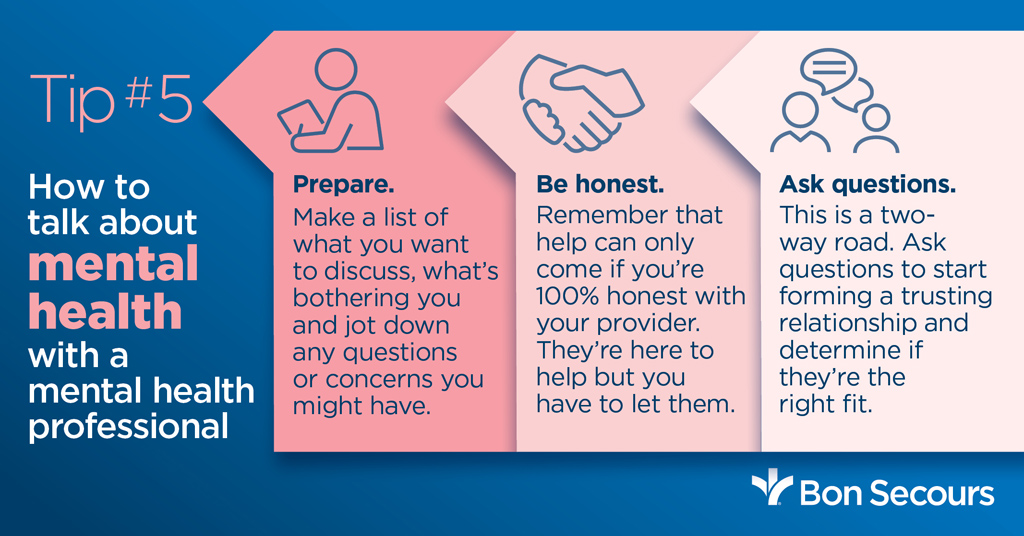 Person 6: Your Friends
It may be difficult to determine how to talk about mental health with your friends because it's hard to know how they'll react. Your friends should care for your well-being, but sometimes this conversation may be hard to receive. Plan for it by choosing a method of communication that feels best for you – perhaps your closest friend lives across the country, but you want to share this with them. Speaking in person may not be an option, but a video call could stand in as an acceptable substitute so you can still see their face.
Ahead of that conversation, prepare for it much like you would a talk with your partner: decide what you want to say (and what you don't), be honest and discuss boundaries in order to let them know how they can best support you. Unfortunately, the reality is that not all of these conversations go well. While this may make you hesitant to talk about your mental health with a friend again, reconsider when you are feeling open to it. Perhaps choose a different friend you feel may react more positively. You may even revisit the topic with the same friend if you feel they have had time to adjust or have atoned for their initial response.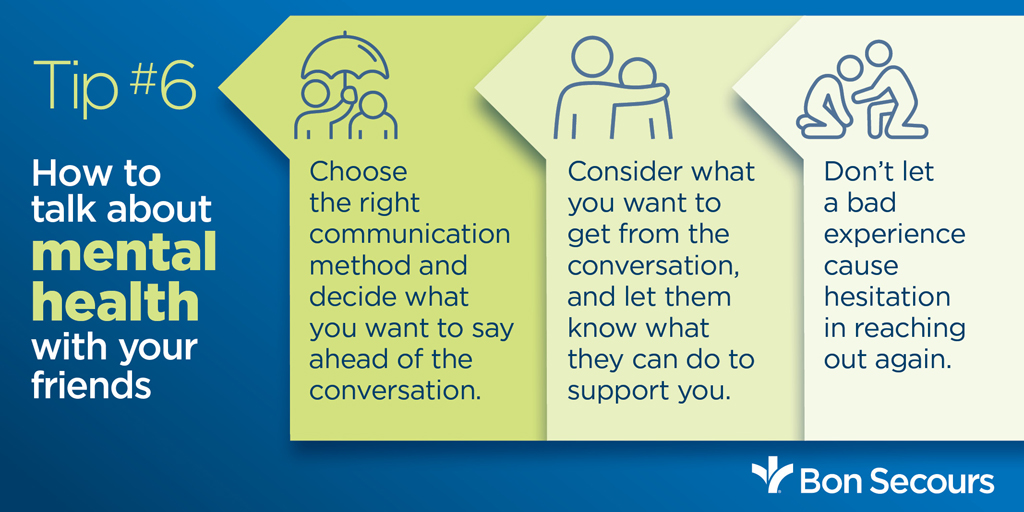 Talking about your mental health can feel uncomfortable at first, and it's important to remember that the people in your life want to help and support you. If you're feeling like it's time to talk to someone about your mental health, start with your primary care provider. Our primary care providers are available and ready to help every step of the way.
Also, learn more about the behavioral and mental health services we offer at Bon Secours.